The latest information on how coronavirus is affecting travel to Germany
Due to the ongoing worldwide Covid-19 pandemic, European countries continue to take a variety of measures to combat the spread of the virus. Travel restrictions and special hygiene regulations therefore continue to apply, which also affect Germany.
In many European countries - including Germany - the measures include the restricted opening of restaurants and hotels. More information here.
RKI's list of current risk areas (scroll down to "English Archive")

Before you travel: Information on entering Germany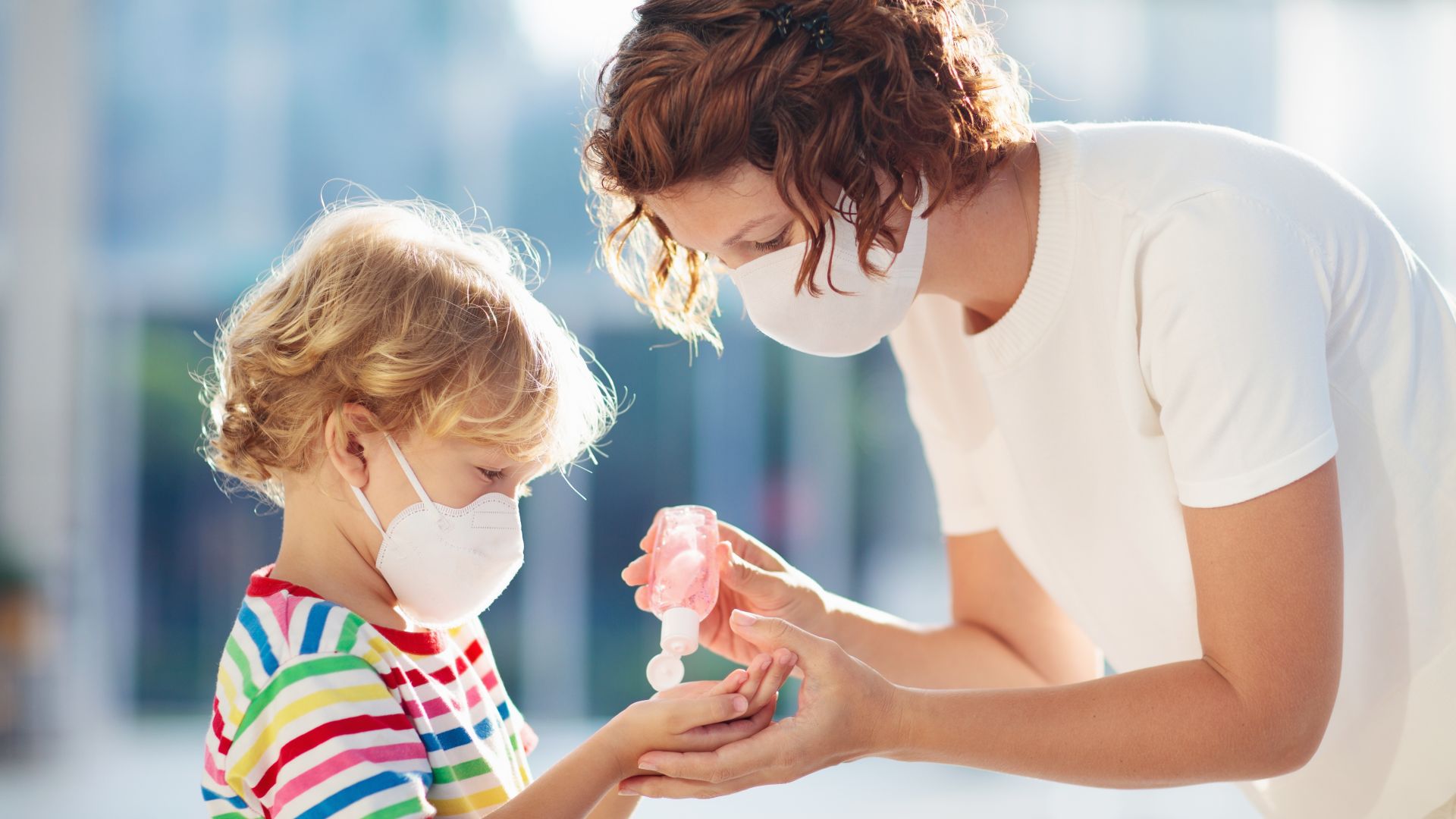 Mère et enfant avec masque facial et désinfectant pour les mains ©gettyimages (FamVeld)
The Robert Koch Institute continuously assesses the current situation regarding the spread of the Coronavirus and the Federal Government classifies countries with high case numbers as risk areas according to this assessment.
If you are entering Germany from a high risk area or so-called virus variant areas, you must go home immediately after arrival – or to another accommodation at your destination – and keep yourself isolated for ten days (domestic quarantine)
You must also be able to bring prove that you are not infected with the SARS-CoV-2 coronavirus no later than 48 hours after entry. The responsible authority may require you to provide proof in the form of a test result or medical certificate up to ten days after entry
The domestic quarantine can usually be terminated with a negative test result after five days at the earliest
The exact quarantine regulations depend on the regulations in each federal states
For those entering from a non-risk or risk area, the quarantine requirement does not apply, but they must be able to prove they are not infected with coronavirus no later than 48 hours after entry. Proof of vaccination and recovery can substitute for negative proof of testing.
Since November 8, you must register via a digital entry form if you have been in a risk area up to ten days before

At www.einreiseanmeldung.de you can give information about your stays during the last ten days
After you provided all necessary information, you will receive a PDF file as confirmation
Your carrier will check whether you have a confirmation before the start of your journey – otherwise they cannot transport you

Since 14 February, controls have been carried out at the borders with the Czech Republic and France. Stricter entry restrictions are in place for people entering the country from these areas
When traveling with Deutsche Bahn, passengers who enter Germany directly from a high-risk area must enter their contact details and destination in an online form
When travelling to Germany by plane, please contact your airline in order to receive information about the current regulations in place. Persons entering Germany by plane must be able to prove that they are not infected with the SARS-CoV-2 coronavirus with a negative PCR or antigen test result before entering Germany. The test must not be older than 48 hours before the planned arrival in Germany. Vaccination and recovery evidence can substitute for negative test evidence.
Since 01.03.2021, you will receive an SMS from the German government as soon as your cell phone connects to a German mobile network. The SMS message informs you about the entry and infection protection regulations applicable in the Federal Republic in German and English. You can find more information here.
Current information on entering Germany as a travel destination
Latest information from the European Union about entry restrictions
During your stay: Behavioural advice in public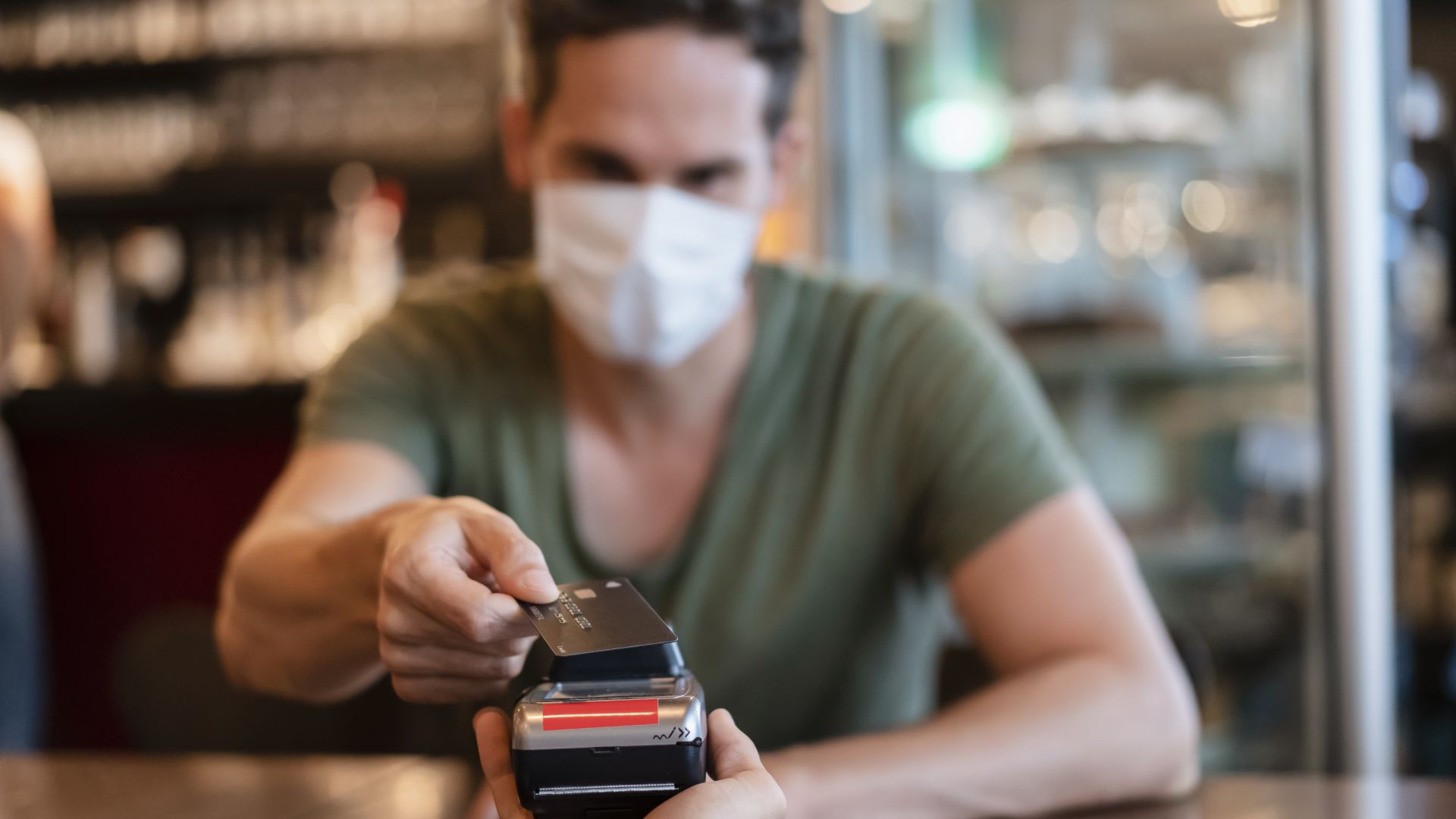 Homme au masque de protection en payant par carte de crédit au restaurant ©gettyimages (Westend61)
In order to contain the spread of the Coronavirus in Germany, far-reachingdistance and hygiene regulations must still be observed.
In public, a minimum distance of 1.5 meters to other people should be maintained if possible
In public transport and retail trade it is obligatory to wear FFP2 or KN95 masks.
Masks are also compulsory in certain city centres or at highly frequented public places
In public as well as private space only gatherings of no more than five people from two households are allowed. In areas with an incidence level above 100 gatherings of only one household with one outside person are allowed.
In some federal states, fines may be imposed without prior warning in case of violation of this obligation
In areas with low incidence levels, each states may relax individual measures at local and regional level.
Au nom du ministère fédéral de l'économie et de l'énergie (BMWi), le Centre fédéral de compétence pour le tourisme présente des informations quotidiennement actualisées sur l'état du Covid-19 dans les 16 États fédérés.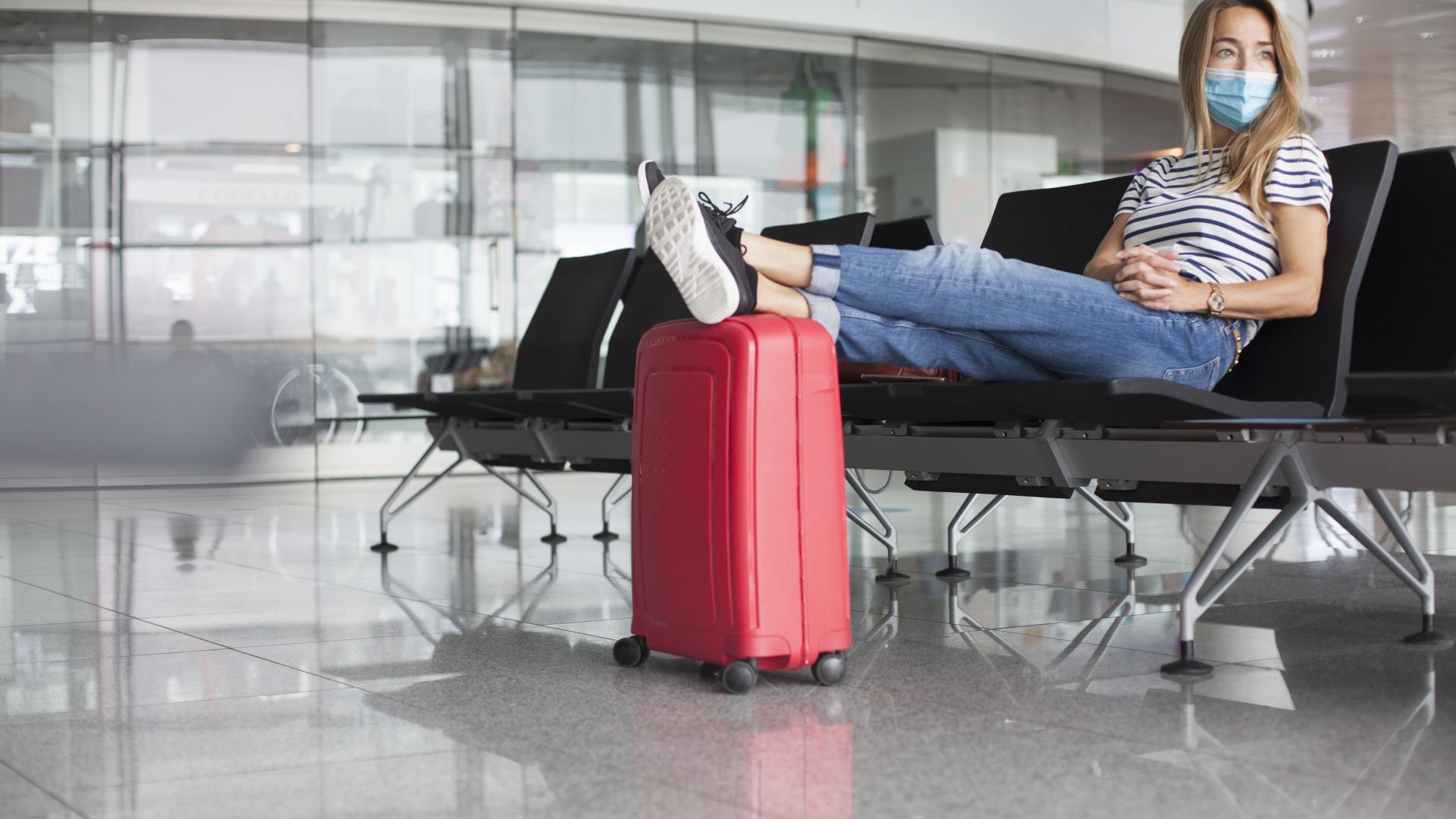 Munich: Femme en attente à la porte d'embarquement vide portant un masque protecteur ©Getty Images (Kathrin Ziegler)
Central sources of information:
Further information on the novel Coronavirus can be found on the website of the Robert Koch Institute
Current assessments of the situation on the World Health Organization website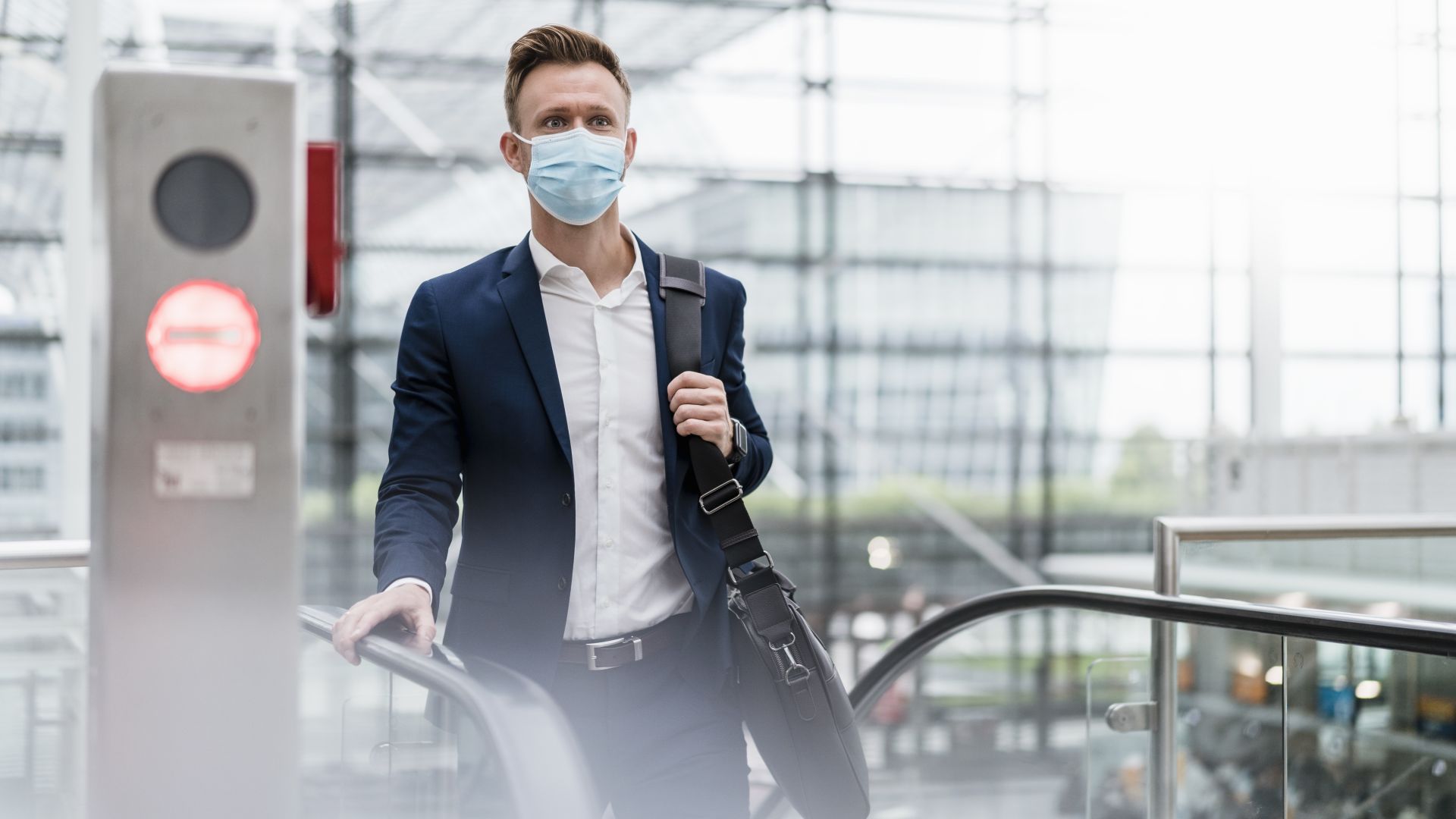 Homme d'affaires avec masque facial sur l'escalator ©gettyimages (Westend61)

Important information for fair participants

Stay healthy!